Today was a special day. A birthday in the family was the perfect occasion to step out for lunch. A full family outing after twenty-four months. Can you believe that? Neither could I and also considering that I suck at Mathematics, I did the calculation again. And, sure enough, got the same answer.
Anyway, all of us were up to the challenge of dressing up and stepping out. Never mind, that it took us some time to find clothes that would fit and shoes that weren't disintegrating in this humid Mumbai weather. All decked up we landed at Sahara Star, Vile Parle.
Then it was down the stairs to The Earth Plate. And oh boy! I am telling you, I looked all calm and serene on the outside as I surveyed the massive spread, but these astral projections of mine ran around the restaurant to the various counters checking out the goodies.
There were, let's see, chaat counter, sushi counter, some Chinese counter, butter chicken/chole and kulcha counter, hummus and shawarma counter, risotto and gnocchi counter, pudla counter, idiyappam and veg stew counter, veg and non-veg soup counter and jalebi counter. That's ten counters. And of course, the regular veg and non-veg main course, salads, and desserts.
This is called heavenly torture. Too much to choose from and what to eat, keeping in mind that my stomach is mine. Now, had it been my enemy's I would have stuffed it to the point of puking…LOL.
I swear, there must be atleast 250 dishes on display. After lunch, had the opportunity to talk to the Sous Chef and asked him about the numbers. He wasn't sure but after a while, he came back to me and said that no one had asked him that question before so he had actually gone around the main stations and counted. There were approximately 150 dishes he said. And then looking around we were sure that including other stations there were a total of 250 dishes. That is a phenomenal number.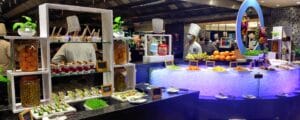 Ok, now let's get down to the main purpose of this review. The food. To be fair the last time I was here neither was the spread this extensive nor was the taste this good. But, this time around, on both counts, things were looking up. Started with idiyappam and stew. Ah! Sweet and heat on a plate so neat. Great is the verdict.
The sushi was nice, though I have nothing to compare it with, as this was my first encounter with it. But I am open to trying it again and that's a positive. Tried a little from all the above-mentioned counters. Everything was good, except chaat, had tried aloo tikki. Guess chaat is best left to the street vendors.
Rest everything was good or great. Had mutton rendang after a long-long time and enjoyed it. The pudla was stuffed with cheese and chilies and all the nerve endings on my tongue came alive. The dal bati was good. The pulled mutton pockets were tender, the tandoori prawns were yum so I was told by the twins, dahi wada was soft and the curd was beautifully balanced and to nicely round off the meal was jalebi and rabri. I am very particular about the jalebi and very rarely find them up to the mark, as I always end up comparing them with the fresh ones we get in Lucknow. But these were crisp, no after taste, the perfect tan color and the cool-cool rabri to go with it. Just fab.
The service matched the food. The staff was attentive and plates were presented and removed promptly. And, appreciate that they had a differently-abled chef dishing out the shawarma sandwiches. Then there was Valeri who personally made sure that we had the wheelchair we requested for. Little touches, attentive service, and fabulous food made this outing memorable. But please make sure you book a table before you get in the car. The restaurant was full capacity.