Something led to something and that something led to Sammy Sosa. Since it was 4 pm, we had luckily missed the lunch rush. Needless to say, we were super hungry.
The restaurant is 'XL' size and is done up – actually, as if done up a long time ago. I guess that's their theme. Even their Andehri outlet felt the same. Except the wall opposite the entrance that sported a bright and beautiful mural painting depicting the 'Day of the Dead'
The food however is not neglected. For starters we had Chacho Nachos Chicken. The plate was beautiful and loaded and tasted even better. It was accompanied by Salsa, a fresh Mango Salsa and Jalapinos Dip. All were excellent. The mango salsa was nice, just too sweet for our taste.
Papas Fritas – Not as great as they sound or even look.
Tuscan Ribolita Soup (Veg) was a good mix of herbs and sweet and tangy. The perfect mix for the weather.
Mama Sita Rice N Mashed Potatoes – Everything except the accompanying gravy was good. The gravy is not bad; I would say, just not what I enjoy in terms of flavor.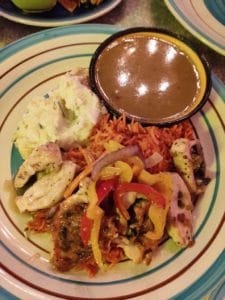 The Boatman's Dream – Same as the mama sita rice dish. The prawns were a tad bit chewy.
Mud Pie Ice-cream was the bonus.
The service was good and Jay Prakash and Jameel took good care of us.  
Glass Cactus – Cute!
(And to add to the fun and subtract from the bill, they offer Zomato Gold 1+1 on food)