Well, there are two hassles involved with German Bakery, one good and one bad. The bad one is trying to find a parking space. The bakery is situated at a very busy T-junction and in the evenings the traffic is maddening – yeah so says a Mumbaikar. Once you have succeeded in parking the car you can move on to the good hassle. The hassle of choosing what to eat from their fairly extensive menu.

 
The other thing about this place is that from the outside it looks like an average sized bakery shop but once you cross the threshold all this cavernous space opens up. Off to the right and to the back is a big spacious area with tables and chairs and provision for live music. Then just as you think this is it you realize that just off to your left there is another big room. Here the tables and chairs have been replaced by sofas and center tables giving it a more drawing room feel. The best part about this room – a big reason why we choose to sit here – are the paintings on the walls . They are bright vibrant and totally unexpected. 

We ordered chicken chilly dry, fish and chips, hash potato, guava marie, hot chocolate and melito.
The chicken chilli dry though had a simple presentation was very yummy. The chicken was tender and the flavors well balanced.

 
The fish and chips was excellent. The fish was crispy from outside and moist from inside. The fries were good too, the accompanying tarter sauce was perfect and even the greens were fresh and crunchy. This was the best dish. 
Now the hash browns are a little debatable. Because what was served didn't look like your regular hash browns and we didn't bother checking with the service executive firstly because we were hungry and secondly it tasted good. So, we ate it. Someone out there may know what this dish is actually called. 
The guava marie was good, the melito was average but the hot chocolate was a hit with the kids.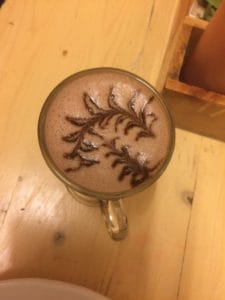 Overall a fun evening; and if I ever find myself in Lonavala again I am sure to visit this place.